Peter Reiquam describes the role of the bucket brigade in the history of firefighting and his inspiration for the Public Art at Fire Station #4. (Video interview courtesy of Scott Long.)
The Bucket Brigade by Peter Reiquam was installed April 2017, and now welcomes visitors to Roswell's Fire Station No. 4, the newest civic building in Roswell, on Old Alabama Road. This intriguing work of art combines a salute to firefighters with an affirmation of the rich history and sense of community that can be found in our city as it nestles next to Chattahoochee River.
What is a Bucket Brigade?
In firefighting, a bucket brigade is a line of people who pass buckets from one another to put out a fire.Today, firefighters enjoy bucket brigade competitions at special events, working together in teams to honor this tried-and-true technique.
More broadly, the term is used to describe people working together — each at their own level of ability— to achieve a common goal.
The Bucket Brigade is a fun piece of art that people will bring to life when they pose as if they were actually in the brigade line.
Tony Papoutsis
Deputy Fire Chief
Roswell Fire Department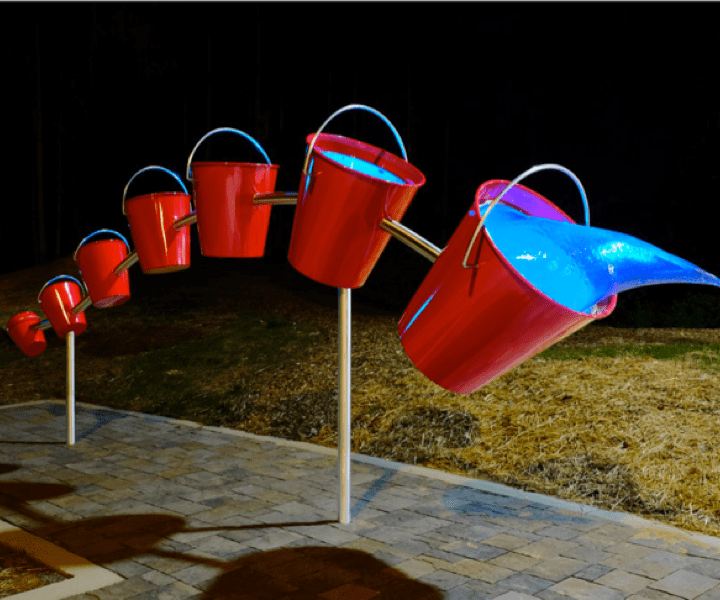 What an exciting and progressive choice that Roswell has made in the "Bucket Brigade" for its first foray into a public art project. I think the work is accessible, clever and sophisticated, and will be enjoyed by all ages!
Lisa Tuttle
Public Art Administrator, Fulton County
About the Sculpture
Peter Reiquam, whose proposal was chosen by a Public Art Panel representing key stakeholders, describes his inspiration for the sculpture.
Based on a simple fire fighting method involving a team of people passing water-filled buckets, hand to hand, to be thrown onto a fire, "Bucket Brigade" illustrates this idea using a series of buckets as individual frames in a sort of stop-motion animation or pages of a flipbook.
Seven buckets of graduated sizes are arranged on a curved stainless steel rail that forms a swooping arc and describes the path of motion created by the action of receiving a bucket from one's neighbor and throwing its contents onto the raging fire. The graduated sizes of the individual buckets will create a forced perspective and the illusion that the line of buckets is getting closer as each is passed from person to person.
The buckets are fabricated from stainless steel and their exterior surface is powder-coated fire engine red. A simulated "splash" molded from thermoplastic material appears to spill from the first bucket in the line and a large volume of polymer "water" appears to be thrown from the largest bucket at the end of the line. These three-dimensional clear plastic elements are a convincing stand-in for the real thing as they freeze the image of the flying water. The dramatic effect of this transparent surrogate "water" is further enhanced by incorporating LED lights inside of the buckets making the thermoplastic material appear to glow after dark
The free-standing swooping support rail is installed on an engineered pavilion placed near the main entrance to the fire station.
The sculpture will be visible to pedestrians and passing motorists and will serve as an iconic, contemporary site marker for Fire Station # 4.
As I learned about the history of Roswell, with its closely-knit community and connection to the Chattahoochee River, the Bucket Brigade seemed to be the perfect representation of the city's past, present and future.
The sculpture serves as a metaphor for community involvement and teamwork – whether joining forces to save a neighbor's home or working toward a worthy cause. Finally, I am taken with the new station's proximity to the Chattahoochee River and feel that "Bucket Brigade"reinforces the connection between the community, the fire department and this source of life-giving and life- saving water," he continues.
"It is my hope that this art at Fire Station No. 4 will be a landmark that residents and visitors will identify with and enjoy again and again."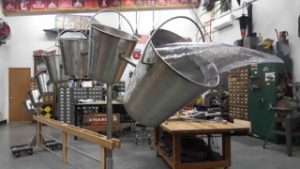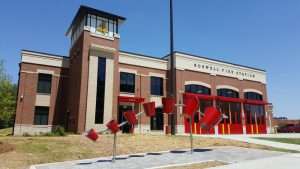 About the Artist

Peter Reiquam is a Seattle-based artist who has been creating public works for over 20 years. His site-integrated works often use a stylized representation of familiar objects as a device for viewer interaction. His artworks are often both functional, as well as instilled with a conceptual narrative. Peter received his MFA in sculpture from Yale University in 1984 and has completed public art commissions for the Washington State Arts Commission, the City of Kent, Sound Transit, the City of Seattle and other locations nationally.
Peter's Nine Lives was named one of the best works of public art in 2015 by Americans for the Arts, and The Empty Chair received the same recognition in 2014. He also received this recognition in 2009 for "Landing Zone" and in 2007 for "Big Corn."
Peter's Nine Lives was named one of the best works of public art in 2015 by Americans for the Arts, and The Empty Chair received the same recognition in 2014. He also received this recognition in 2009 for "Landing Zone" and in 2007 for "Big Corn."