2020 Pop Up Performance Series
Roswell Arts Fund and From the Earth Brewing Company are reimagining how to create safe and fun community events for artists and audiences. By incorporating physical distancing, requiring face masks and transforming parking lots into outdoor performance areas we are able to continue the Pop Up Performance series and produce concerts featuring world-class performances.
About Tickets and Seating
Tickets and Seating: 

Parking lot spaces are used as box seats.
Each parking space (or "box") seats 1 - 4 guests. No more than 4 guests per space will be permitted.
Patrons will park and then visit the ticket booth for a temperature check and to be ushered to their box.
Guests are welcome to bring lawn chairs or picnic blankets within their seating area.
Physical distancing will be enforced. Please maintain a 6 ft distance from other parties at all times.
Face masks are required outside of your box.
Food and Beverage Information
NO outside food or drinks will be permitted.
From the Earth Brewing Company will have food and beverage will be available for purchase throughout the concert.
Safety Precautions
Physical distancing will be enforced so please maintain 6 feet from all other parties at all times.

Face coverings will be required outside of your box 


Pursuant to Georgia law, EACH TICKET HOLDER VOLUNTARILY ASSUME ALL RISKS, HAZARDS AND DANGERS arising from or relating in any way to the risk of contracting a communicable disease or illness (including exposure to COVID-19, a bacteria, virus, or other pathogen capable of causing a communicable disease or illness), whether occurring before, during, or after the event, however caused or contracted, and, by purchasing a ticket, waives all claims and potential claims against Roswell Arts Fund and From the Earth Brewing Company relating to such risks. By purchasing a ticket to this event, you agree to these terms
For Your Safety, We Will Adhere to the Following Georgia COVID-19 Guidelines Required by the Governor's Mandates for Performance Venues
Patrons and performers cannot enter if they have been diagnosed with COVID-19, have exhibited Symptoms of COVID-19, or had contact with a person that has or is suspected to have COVID-19 within the past fourteen (14) days.
All workers will wear a face-covering while at the facility and contacting patrons
Any patrons that begin exhibiting or experiencing Symptoms of COVID-19 at any time while at the Live Performance Venue will be instructed to leave the Live Performance Venue as soon as practicable.
We will use contactless parking systems, ticket-taking, ticket purchase, will-call, check-in, check-out, security checks, and/or sales.
To the extent practicable, we will eliminate the need for patrons to touch surfaces
To the extent practicable, we will utilize physical barriers such as partitions or Plexiglas at ticket counters, concession stands, and points of sale.
We will implement additional points of sale for concession stands to reduce the number of patrons waiting in lines.
We will limit the number of individuals permitted in on-site boxes to enforce adherence to proper Social Distancing protocol.
To the extent practicable, we will require physical space between parties of patrons to enforce proper Social Distancing protocol.
We will provide ushers to enforce social distancing protocol before, during, and after the event, and to facilitate patrons' entrance and exit in accordance with any grouped entrance and exit times and portals.
We will provide Hand Sanitizer for use by all individuals present, using contactless hand sanitizing stations when available
We will configure queues so that patrons must adhere to Social Distancing while waiting
We will sanitize PIN devices and other high contact surfaces in the venue prior to each event
We will implement extended times to allow for controlled crowds during patron ingress and egress from seating areas and restrooms
We will require all dining facilities to follow the criteria for restaurant dine-in services set forth in Section IV of this Executive Order titled "Restaurants & Dining Services"
We will require Workers to clean and sanitize bathrooms and all frequently touched surfaces regularly throughout times while patrons or performers are present at the facility in addition to the regular cleaning schedule.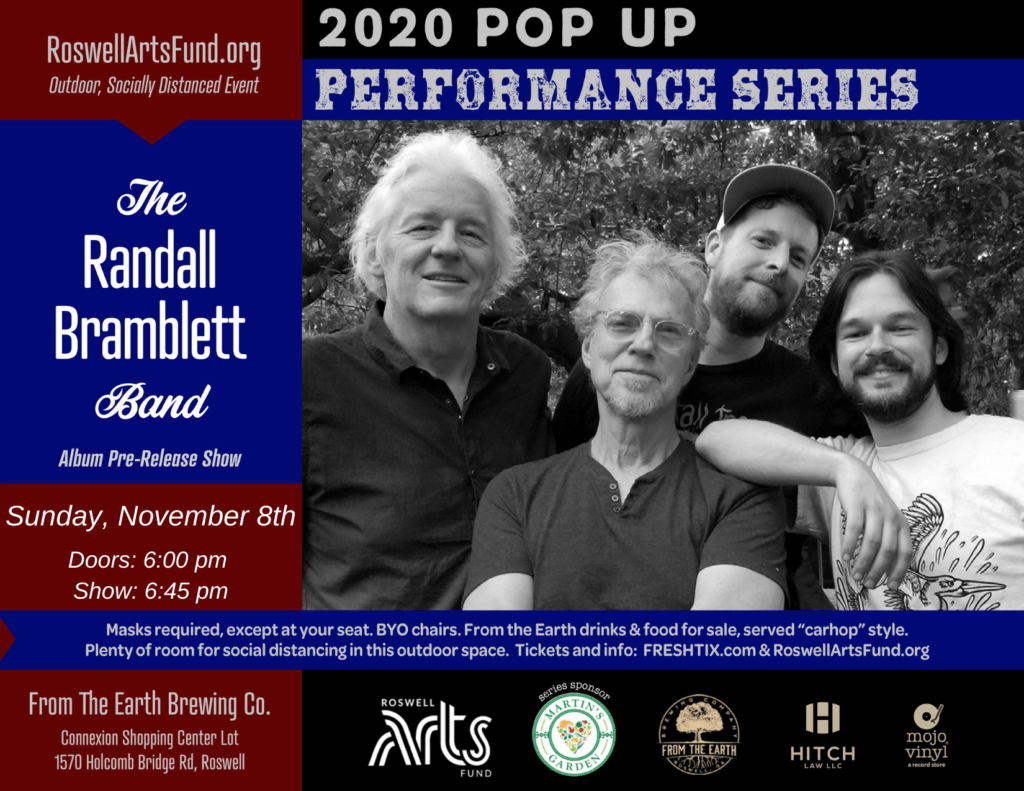 Sunday, November 8th: 
The Randall Bramblett Band  (Pre-Release Show for New Album Pine Needle Fire, out November 13 on New West Records)
Open to Patrons: 6:00 pm    Concert Starts: 6:45 pm

Where: From the Earth Brewing Company, 1570 Holcomb Bridge Road, Roswell, GA 30076
*** Note:  Originally, this concert was scheduled for Saturday, October 24th but was rescheduled due to inclement weather.  If you are an original ticket holder, please contact info@roswellartsfund.org for refund/exchange options. 
About Randall Bramblett
Esteemed singer-songwriter Randall Bramblett is a multi-instrumentalist musician with a career spanning four decades. Highly sought-after for his creativity as both a collaborator and skilled touring sideman, the legendary Georgian's talent has earned him the respect of his peers and many of rock's finest luminaries.
While having shared stages with artists such as Steve Winwood, Bonnie Raitt, The Allman Brothers and Widespread Panic, among others, it's Bramblett's own career as frontman where his artistry is truly on full display. 
Bramblett's solo career began in the 70's with a pair of albums on Polydor Records. Joining the rock-jazz fusion group, Sea Level, he wrote/co-wrote a number of the group's songs, including the Billboard single "That's Your Secret." Bramblett was approached by Traffic co-founder Steve Winwood in 1988 and spent the next 16 years touring in his band. It was on the road that he wrote new material with reinvigorated confidence and inspiration.
Teasing his listener with unexpected humor while fleshing out fully lived-in characters with human ambition and godly stature, Bramblett continued his storied career with a continual pageant of reinvention and true conviction.
Deep into his self-described second act of his solo career, Bramblett aims to recreate the literature of the blues with music about nowhere people in nowhere lands. Conjuring equal parts Tom Waits, William Burroughs, and hallelujah chorus, his music again comes alive with this new collection of songs. With a commitment to the story of his characters and the necessary mutation of music, Bramblett has kept his solo career as fresh as the day it began. 
The first single from Randall's forthcoming album Pine Needle Fire, I've Got Faith in You, was released on September 14.
 Read Randall's Interview in American Songwriter. 
Purchase Randall Bramblett's Forthcoming Album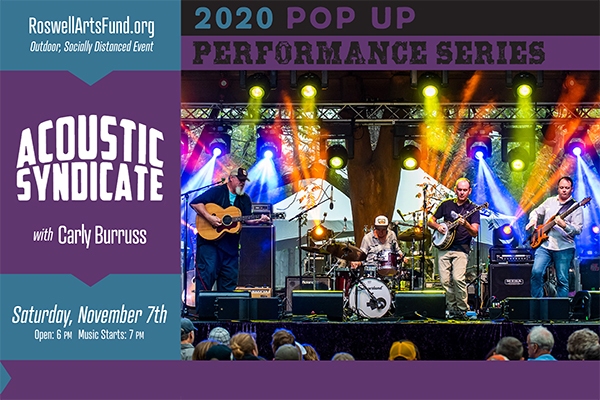 Saturday, November 7, 2020: 
Acoustic Syndicate with Carly Burruss
Open to Patrons: 6:00 pm    Concert Starts: 7:00 pm

Where: From the Earth Brewing Company, 1570 Holcomb Bridge Road, Roswell, GA 30076
About Acoustic Syndicate
Acoustic Syndicate is a musical institution. Since 1994, their unique blend of bluegrass instruments, rock sensibilities, and conscious songwriting has inspired a generation of musicians. Through 7 albums, thousands of performances, and tens-of-thousands of miles, Acoustic Syndicate has long been heralded as one of the important influences on the modern roots-music revival.
Always a family affair, the band is fronted by Steve McMurry on guitar and vocals, and his cousin Bryon McMurry on banjo, guitar, and vocals. Their signature three-part blood harmony is rounded out by Bryon's brother Fitz on drums and vocals. Multi-instrumentalist Jay Sanders holds down the bass with deep pocket and style.
"Their modern take on traditional bluegrass and rock values culminates in a glimmering, driving sound rich with acoustic textures and glowing vocals," said Paul Kerr, of JamBase.
If there was ever a band that could capture the universal truths of life from the roots up, it's Acoustic Syndicate.
Acoustic Syndicate - "Memphis Girls"
Acoustic Syndicate - "Heroes" (from the Album Rooftop Garden)
About Carly Burruss
With a wicked sense of humor, a storyteller's heart and a sweet nature, Carly Burruss is the epitome of country. Her whimsical, tongue-in-cheek disposition combined with her agile, lilting sound make her the country music singer/songwriter that stands out from the rest. A Carly Burruss show is sure to be one you will never forget as she entertains you with quippy comedy, witty lyrics you won't forget, and devastatingly relatable heartbreakin' ballads. 
Burruss grew up skimming her fingers across piano keys and singing in church. The daughter of a schoolteacher and cabinet maker from Cumming, Ga, her budding love for country music stemmed from the records she found in her grandparents' home, mostly consisting of classic country vinyl. She found her way to the guitar, teaching herself the chords, and took the stage for the first time with her all-girl bluegrass band The Sawnee Mountain Train Wreck. 
Today, Burruss is a touring country artist who doubles as a worship leader at Passion City Church in Atlanta. Recently, she has joined the boys of Sister Hazel on tour as the opening support artist. Burruss has shared the stage with other profile artists in recent years, including Keith Urban, Ruston Kelly, Ellie Holcomb, Dwight Yoakam, and Kasey Chambers. 
Burruss has developed a loyal fanbase on The Rock Boat, a music festival boasting some of today's finest musicians, and Florida Georgia Line's "This Is How We Cruise" festival. 
Burruss is in the business of honesty and conversation: one song from her feels like sitting down to have a heart-to-heart with your best friend. Her authentic lyrics about God, family, rock bottom, and finally making it up the mountain are the words we all want to sing along to. Her upcoming EP entitled "The Southern Pace [click for Official Video] EP" signifies a new era for Burruss in which her songwriting reaches the next level. Keeping the cheeky quality we have come to love, she digs deep to reach your soul and your sense of humor. 
She would like to thank Dolly Parton and Jesus for making her into the artist and person that she is today.
Thank you to the initial sponsors of the 2020 Pop-Up Performance Series including our Series Presenting Sponsor Martin's Garden at Coleman Farm, joined by From the Earth Brewing Company, Mojo Vinyl Records, Roswell Historic Cottage and Hitch Law, LLC.
About the Pop Up Performance Series
For media inquiries and to join our sponsors in support of RAF's mission, please contact Scott Hitch at scotthitch@hitchlawllc.com or 404.580.1270.
Tickets sold for performances benefit the Roswell Arts Fund and its mission of bringing world-class arts opportunities to Roswell and greater north metropolitan Atlanta.
RAF envisions creating a new, state-of-the-art and regionally distinct performance space. Having completed a feasibility study in 2019, RAF understands how a new performance space for music, theatre, and dance—a place where our community gathers to enjoy a favorite band or ballet production, a destination for entertainment, inspiration, and laughter, and to present fresh opportunities to showcase emerging talent and bring world-class performances—will expand and enhance Roswell's arts and culture scene.
The 2020 Pop-Up Performance Series presents curated performing arts experiences to engage audiences and strengthen community support for development of the new facility. Additional experiences will be "popping up" throughout Roswell in 2020.
Feb 27, 2020: Ed Roland with Grit and Grace and Francisco Vidal at Roswell Historic Cottage
May 4, 2020: Enrique Chi of Making Movies held as FB Live event due to pandemic
August 15, 2020: John Driskell Hopkins Band (of Zac Brown Band) with special guests Mike Rizzi and Friends
October 30, 2020: Ruby Velle and the Soulphonics