2020 Pop Up Performance Series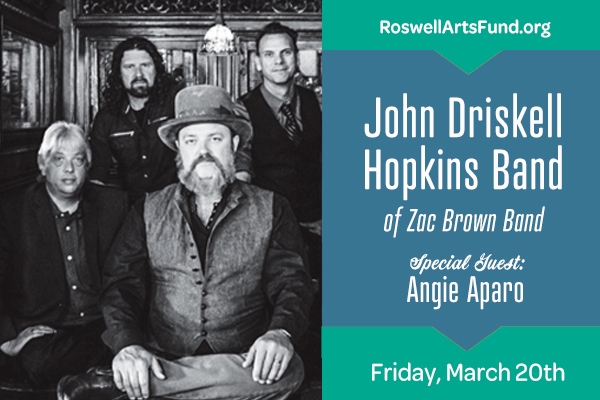 POSTPONED
 

John Driskell Hopkins Band
Special Guest: Angie Aparo
Opening Act: Francisco Vidal 
A message from Roswell Arts Fund regarding the March 20th Pop -Up
Roswell Arts Fund's highest priority is the health and well-being of all our patrons, artists, and staff. We have been closely monitoring and evaluating developments of the coronavirus (COVID-19), and the guidance from the Centers for Disease Control (CDC) and local health and government authorities.
After much consideration, we have opted to postpone the March 20th pop-up performance featuring the John Driskell Hopkins Band with Angie Aparo and Francisco Vidal.
This is a difficult decision and we are not taking it lightly. Still, our community's welfare takes precedent over any other consideration.
We are working with the artists and staff to come up with alternative plans and know we will gather for a fantastic evening of music and connection at a later date.
In the meantime, if you have purchased tickets for the event you will receive an email with information regarding your ticket options.   
if you have any questions or concerns please contact us at info@roswellartsfund.org
2020 Pop-Up Performance Series
For media inquiries and to join our sponsors in support of RAF's mission, please contact Scott Hitch at scotthitch@hitchlawllc.com or 404.580.1270.
Tickets benefit the Roswell Arts Fund and its mission of bringing world-class arts opportunities to Roswell and greater north metropolitan Atlanta.
RAF envisions creating a new, state-of-the-art and regionally distinct performance space. Having completed a feasibility study in 2019, RAF understands how a new performance space for music, theatre, and dance—a place where our community gathers to enjoy a favorite band or ballet production, a destination for entertainment, inspiration, and laughter, and to present fresh opportunities to showcase emerging talent and bring world-class performances—will expand and enhance Roswell's arts and culture scene.
The 2020 Pop-Up Performance Series presents curated performing arts experiences to engage audiences and strengthen community support for development of the new facility. Additional experiences will be "popping up" throughout Roswell in 2020.
Initial sponsors for the 2020 Pop-Up Performance Series include our Premier Sponsor Martin's Garden at Coleman Farm, joined by From the Earth Brewing Company, Roswell Historic Cottage, Mojo Vinyl Records, Gate City Brewing and Hitch Law, LLC