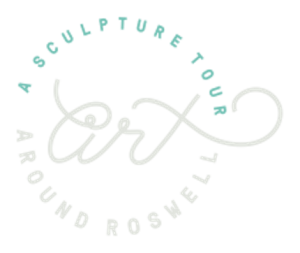 ArtAround Roswell,  "a museum without walls", is an initiative of Roswell Arts Fund. Each year from April to March we feature temporary sculptures on loan to the city of Roswell by their artists. In addition to the temporary sculptures ArtAround Roswell includes permanent sculptures which have been purchased from the previous tours.  
The 2019-2020 Tour opens April 18,2019 and will feature nine temporary sculptures along with ten permanent sculptures.  All of the temporary sculptures are available for purchase.
ArtAround Roswell is a partnership between the City of Roswell and Roswell Arts Fund initiated to bring the benefits of public art to the city, including community involvement and enrichment. You're invited to explore, experience and enjoy! 
When you visit the sculptures we would love to see your photos!  When sharing on social media or on our page use #ArtAroundRoswell so we can find and share them!
Thank you to our ArtAround Roswell Sponsors
ArtAround Roswell would not be possible without the generous support from our sponsors. We are grateful for our sponsors and community partners.
Join the Arts Movement in Roswell
Be a part of what we believe in!