What is Public Art?
Public art may be planned or unplanned. Planned public art includes intentional integration of art, as aesthetic elements into building or space architecture, as well as planned stand alone art for building or space grounds and landscape. Public art can refer to commissioned, unique works as well as established works of art. This applies to both public and private development.
Public art provides a way to enhance our quality of life and helps to create a unique sense of place and identity.
What is Roswell's Public Art Master Plan?
Roswell's public art initiative sets our city apart as a welcoming destination, supports a thriving and diverse economy, attracts premiere creative talent, creates a more connected community, and brings visitors to our city.
Unplanned public art includes all gifting (works of art like Sky Maintenance, the donation of a piano, an estate or otherwise gift of existing art) as well as art that shows up (for example a mural on a restaurant wall). Gifting requires a special policy that provides acceptance criteria and maintenance.
How Do We Choose Public Art?
All public art is managed through a similar process that provides for customization based on specific circumstances and budgets. These processes and recommended ordinances are presented in detail in our Public Art Master Plan.
"The best of public art can challenge, delight, educate and illuminate. Most of all, public art creates a sense of civic vitality in the cities, towns, and communities we inhabit and visit," Americans for the Arts President and CEO, Robert Lynch said. "Public art has the power to enhance our lives on a scale that little else can."
Featured Sculptures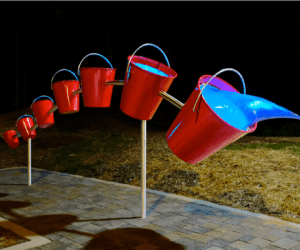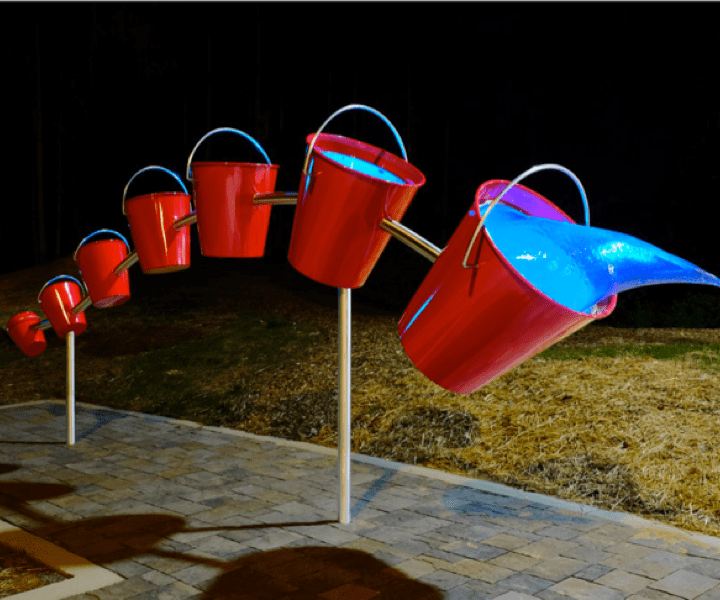 Bucket Brigade By Peter Reiquam The Bucket Brigade by Peter Reiquam was installed April 2017, and now welcomes visitors to Roswell's Fire Station No. 4, the newest civic building in Roswell, on Old Alabama Road. This intriguing work of art combines a salute to firefighters with an affirmation of the rich history and sense of community that can be found in our city as it nestles next to Chattahoochee River.
Roswell's Public Art Inventory
Taylor Kinzel Gallery Sculpture

Leita Thompson Memorial Garden Bronzes

Front Yard of Art Center West

Roswell Visual Arts Center Animal Sculptures

Roswell Mill Workers Monument

Sculpture Garden

Reclining Mother and Child

Faces of War

RosWall

Roswell Area Park Mural
Be a part of what we believe in
Help us strengthen the arts.