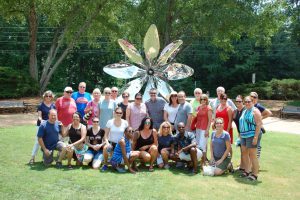 The presence of art in and around office buildings, shopping malls and strip centers, residential developments, even factories and warehouses, as well as parks and rights-of-way, has become a standard by which residents and businesses alike judge the quality and vitality of a community.
Virtually every major city in the country, as well as thousands of smaller, vibrant cities and communities, has instituted a public arts program, most of which are mandatory. Public art is seen as evidence of enlightened, innovative community leadership and commitment.
Works of art add value to the built environment. They can transform places with added meaning, interaction, beauty, and context creating memorable encounters for people in those places.
Public and private developers who fund the creation of public art are perceived as legitimate community stakeholders who embrace the values and share the long-term interests of the citizenry in enhancing their community. In this way, public art is seen as a way for developers to "give-back" to the community. It is good community relations.
States have an opportunity to both improve livability and boost state and local economies by investing in the arts and culture. – National Governors Association
Roswell's public art initiative sets our city apart as a welcoming destination, supports a thriving and diverse economy, attracts premiere creative talent, creates a more connected community, and brings visitors to our city.
Contribute to the visual character and texture of the community
Foster a community's sense of spirit, pride and civic identity
Clarify neighborhood identity and reflect diversity of the community
Activate social public spaces
Encourage public interaction with art
Creatively solve problems with vehicular/pedestrian traffic flow, seating, gathering or other infrastructure elements
Commemorate or celebrate history or cultural heritage
Provide opportunities for regional artists
Create a sense of place
Create unique and iconic artworks for the community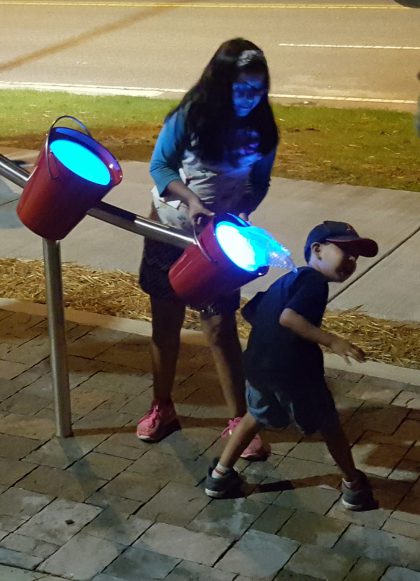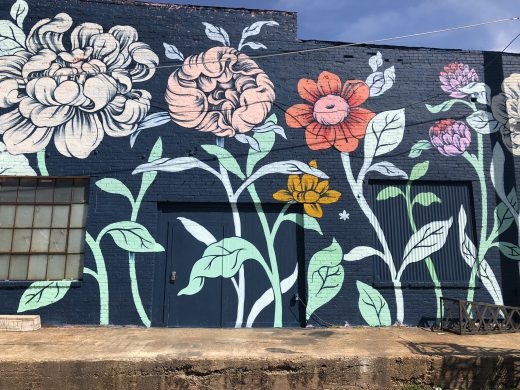 Public art is not just one thing. Both the form and role of public art varies from community to community depending on demographics, culture, social climate, landscape, architecture and urban planning. Public art is often as much about urban design or social issues as it is about art.
Public art is durable and accessible to the public; reflects an awareness of the site, both physically and socially; and fits the historical and cultural values and sensibilities of the community.
Site-specific art installations may be functional, stand-alone, or integrated into the architecture of buildings in the form of architectural elements such as creatively executed gates, entryways, sitting areas, fountains and walkways.
Public Art Can…
be placed inside or outside
be commemorative
incorporate landscape elements
be representational or abstract
be a single work or a whole plaza or park
be integrated with architecture or infrastructure
be educational
be functional, symbolic or just decorative
employ technology (light, sound, motion)
be interactive and participatory
not be visual (poetry on buses, community history radio programs)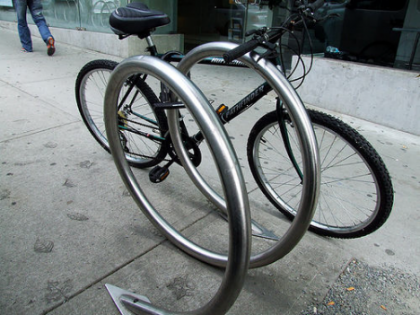 Functional 
The primary purpose of this type of art is utilitarian; it serves a purpose in the public realm. Functional art could be an embellishment of an existing object or a functional piece created entirely by the artist. Examples of functional art include benches, bicycle racks, bus shelters, fences, and gates. Not all bicycle racks are art, but a bicycle rack can be art if it is original, attractive and artfully designed and executed.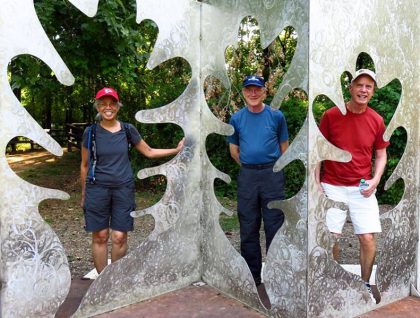 Object (or sculpture)


Freestanding art, physically independent of other site elements, is called object (or sculpture) art. Object art can consist of a wide variety of materials, including metals, wood, concrete, fiberglass, landscape, glass, and lighting elements.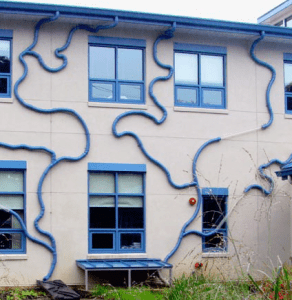 Springside School Rain Wall & Garden, Philadelphia, PA
Integrated
Art that is fully incorporated into the design of a larger project is integrated art. The process is usually collaborative; artists work with architects, engineers, and other design professionals to create and install a work of art. Examples include bridges, retaining walls, and walkways.
Why buy a commonplace building part from a catalogue when you can have it made by an artist? Artist-made building parts add character and beauty to function.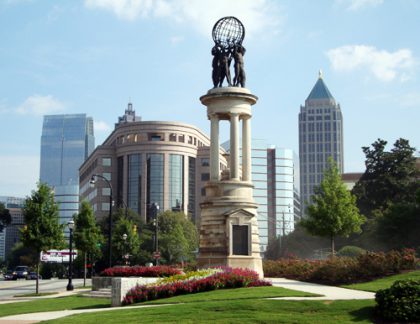 World Athletes Monument – Atlanta, GA
Monuments
This is the most traditional type of public art. Monuments are typically cast in bronze or sculpted from granite or marble. The earliest forms of public art in the United States include monuments depicting war heroes and respected civic and charitable leaders.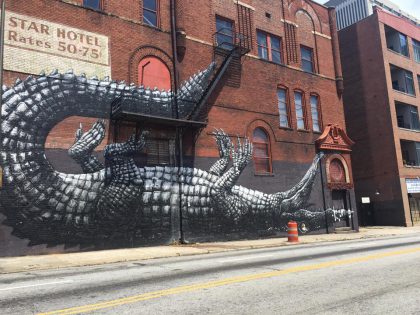 ROA – "Alligator" Mural – Atlanta, Georgia
Murals
Murals are painted or applied to walls. While some murals are painted directly on walls, others are prepared in studio and later applied to walls. Today's murals are similar to prehistoric cave paintings in that they both have messages that are unique to the locale.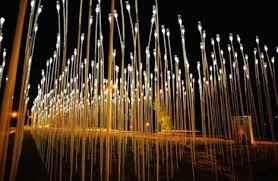 Sensory 
This art can appeal to the visual, auditory, or touch senses, or to a combination of these. The most common example is a water fountain, which has auditory and visual features that enliven a space. More recently, lighting and soundscapes have been popular as public art forms in urban public spaces and parks.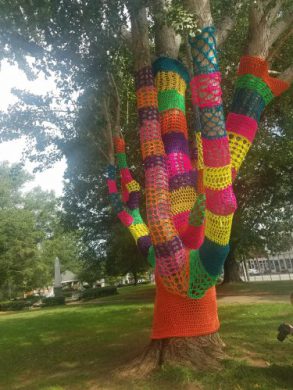 Knitted Trees at Roswell Square
Temporary 
Temporary art can be in virtually any form. The advantage of temporary art is that it creates possibilities for experimentation without a long-term obligation. Temporary art also allows for revolving pieces of art, which creates a dynamic place and encourages return visits with each new installation.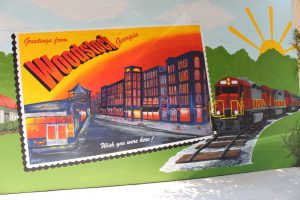 Community 
Community art focuses on the community's belief system; these works often have a community-based design and allow people to express their goals or problems. Community art helps bring people's experiences in the community into the work of art itself.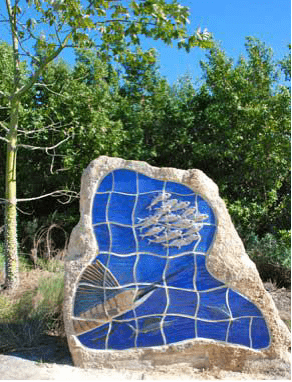 Interpretive
Public art with the primary purpose of educating the public is referred to as being interpretative. The art might be self-explanatory or require a supplemental panel of facts explaining the project.
How Do We Choose Public Art in Roswell?
All public art is managed through a similar process that provides for customization based on specific circumstances and budgets. These processes and recommended ordinances are presented in detail in our Public Art Master Plan. We've created a summary of the process for your review.